Four Tips for Retaining Young, Talented Nurses
Article by:Health Career Center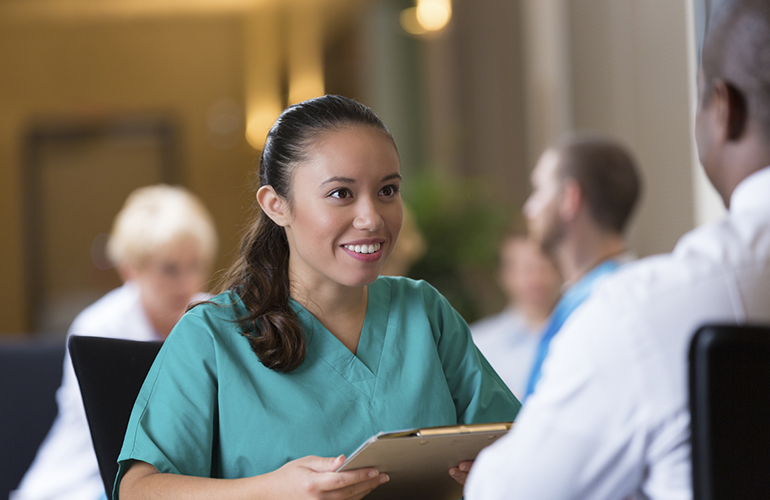 For all of Millennials' perceived shortcomings, even their most passionate detractors can't deny one fact: They are fearless when it comes to taking risks with their career. If they're unsatisfied with their current job, they have no problem jumping to a new one.
Unfortunately, that creates a big problem for you.
Aside from costing hospitals millions in avoidable hiring costs, losing Millennials has a huge impact on your ability to fill nurse leadership positions. That creates an even bigger problem, because nurse leader succession planning is vital to creating stable, healthy work environments for nurses of all ages.
It's a problem you can't afford to ignore anymore. According to the RN Work Project, an ongoing nationwide study of new nurses' career changes and work attitudes, over one-fourth of new RNs leave their first job within 25 months. Almost all of them are Millennials.
The good news is, keeping Millennials happy isn't a huge mystery. It can be as simple as following four key imperatives from the American Organization of Nurse Executives (AONE). Here they are, courtesy of HealthCareerCenter.com.
Acknowledge generational differences and integrate them into organizational goals and outcomes
Thanks to several studies, we now know that Millennials value community service, unlike Baby Boomers who were mostly driven by a competitive spirit during the early days of their careers. To retain this new generation of nurses, you have to create an environment where they can satisfy their need to make a difference in people's lives every day.
Experts say organizations that care for immigrant populations or economically diverse areas will have a better shot at keeping Millennials on staff. But regardless of your hospitals' demographics, you can help retain Millennials by giving them more opportunities to shape policies serving people who usually go underserved.
Create choices which promote harmony between career and personal life
Flexibility is another job perk that Millennials crave — and one that large health systems rarely offer. This means you should consider getting creative with scheduling, or even allowing certain employees to work from home when feasible.
Beyond that, you can also take steps to enrich your employees' lives by helping them achieve personal goals, or bringing them closer to the things they love. A few ideas include tuition assistance for continuing ed courses as well as onsite daycare for staff members' children.
Operate from a sophisticated management style
Collaboration is key to achieving value-based care, especially with today's lopsided patient-to-caregiver ratio. As a manager, it's important to foster a culture that does away with unnecessary bureaucracy, and empowers employees to work together.
It won't be easy — you'll have to identify strengths and weaknesses on an individual basis, and convince employees to hold themselves accountable for responsibilities that are normally outside their own discipline. But many of your Millennial employees will reward you by sticking around for the long haul.
Respect competence and initiative
If there is one thing Millennials won't stand for, it's watching colleagues earn promotions for no other reason than their long tenure. Today's young nurses are willing to work hard to earn their place at the top, and many would rather find a new job than work under someone whose skills they don't respect.
Promote your nurses to leadership positions based on their expertise and independent problem-solving skills, and give them the autonomy to solve problems on their own. You'll not only retain more Millennials; you'll also make your entire organization stronger.
The information in this article originally appeared in the AONE Guiding Principles and on HealthLeadersMedia.com.