Hiring Veterans in Health Care
Article by:Health Career Center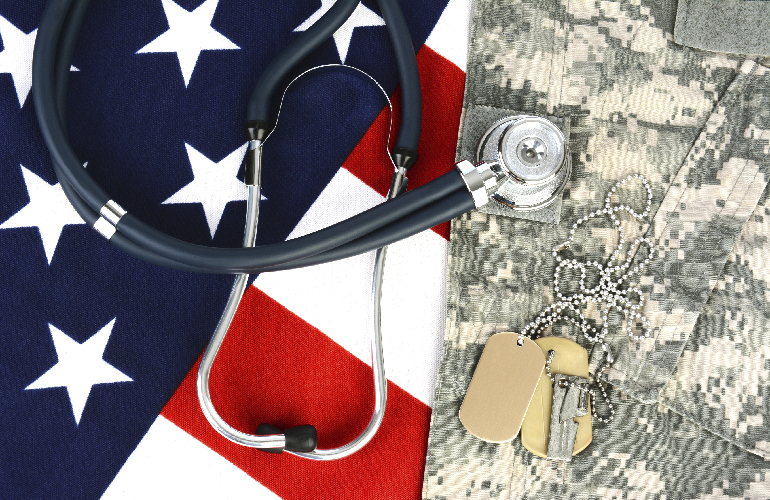 The unemployment rate for veterans in 2014 was 5.3%1. With more than 20 million veterans across the country, the opportunities to hire these veterans are bountiful. Many hospitals have established initiatives to hire more veterans.
Veterans with medical backgrounds can be excellent hospital employee candidates. They have gained valuable skills through military training such as strategic problem solving, proactive leadership, and the ability to work in a crisis.
The American Hospital Association collaborated with the White House Joining Forces initiative to create the Hiring Veterans Toolkit that showcases best practices for hospitals in all locations and of all sizes that want to recruit, hire, and retain military veterans. Make sure to check out the AHA's Hiring Veterans Toolkit to learn more.
The toolkit provides various resources on how to connect with, hire, and train veterans. There are four crucial considerations for employers when establishing initiatives for hiring veterans. Those include the following:
1. Assess Your Needs and Establish the Business Case for Hiring Veterans
Ensure leadership support and that these leaders are sharing this message of support with staff.
2. Hiring Veterans
Understand the veterans in the community and focus on how and when to recruit. Be known in the veteran community – get involved with entities serving veterans.
3. Onboarding Veterans
Become accustomed to onboarding and training procedures in the military and create consistencies in your training program. For example, service members in the military are accustomed to having a mentor/sponsor to help them adjust to military life.
4. Provide Ongoing Support for Veteran Employees
Understand the strengths of these employees and provide ongoing support, such as information about education bridge programs for veterans, to aid them in advancing professionally.
Hospitals across the country have unique programs in place to recruit and retain U.S. Veterans. See below what organizations are doing to hire our country's servicemen and women.
Children's Hospital of the King's Daughters (CHKD), Norfolk, Va.
This organization employs a full-time human resources staff member who engages veterans through the veteran community and shares all open hospital positions. Additionally, this staff member works on a unique onboarding process for newly hired veterans that eases the transition into a civilian workplace.
Bon Secours Health System, Richmond, Va.
Bon Secours has a military affairs steering committee that tracks how many veterans are interviewed and hired. Also, the human resources staff focuses on training hiring managers to better serve the needs of veterans. In 2014, Bon Secours received the Families and Work Institute's "Veterans Employment Transition Award."
John C. Lincoln Health Network, Scottsdale, Ariz.
In 2012, Lincoln Health launched a fellowship program to train combat medics and hospital corpsmen to be transition specialists focusing on patients with congestive heart failure and pneumonia. These transition specialists are hired to meet with patients early in the admission process and establish a rapport, and visit the patients at home after their discharge to ensure they have what they need to become successful outpatients. Learn more about this program in this video.
Rush University Medical Center, Chicago, Ill.
Rush designed a six month temporary stipend program for veterans that offers training and experience in healthcare technologies. The goal of the EN-Abled Veteran Program is to give participants the professional skills and experience needed to excel in the health care IT Market. To learn more about his program here. In addition, in 2014 The Road Home Program at the Center for Veterans and their Families at Rush University Medical Center to provide support to transitioning and returning veterans and their families.
Hiring veterans in healthcare is a win-win. Veterans can use their leadership and clinical skills and experiences to serve their communities and hospitals can benefit from those experiences and skills. Our country's healthcare workers are everyday heroes. How can your healthcare organization place military heroes among them?