Top 3 Takeaways from the 2015 Healthcare Job Search Insights Report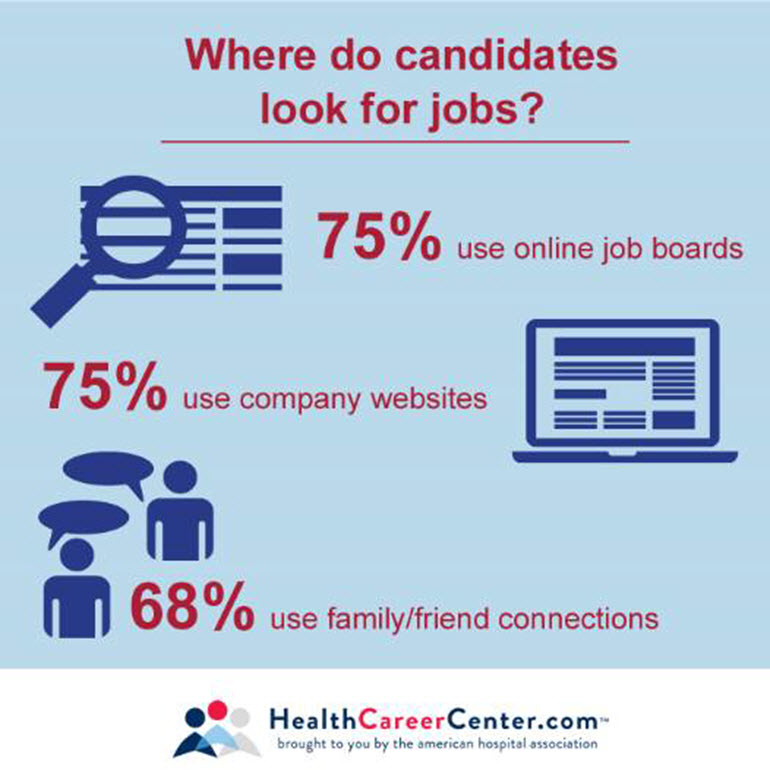 The Health Career Center just released its 2015 Healthcare Job Search Insights Report, our annual study of healthcare job seeker behaviors and attitudes. This informative report explores the healthcare job seeker journey and provides you with valuable insights that can be applied to your recruitment strategy. Let's take a look at the top three insights revealed by the report.
1. Compensation matters, but so do great benefits.
We asked healthcare job seekers what items they evaluate when deciding whether or not to take the next step with an employer. Not surprisingly, compensation came out on top, with 74% of respondents saying it influences their decision. However, great benefits, such as a generous vacation policy and good insurance plans, were not far behind at 64%. Here is what's important when healthcare job seekers are evaluating a job offer:
74% said competitive compensation
64% said great benefits (health insurance, vacation policy, etc.)
48% said flexible hours/scheduling
35% said clear long-term growth opportunities
33% said training and development programs
31% said cultural fit
The takeaway: While competitive compensation is important, great benefits are also a key influencer. Offset an average salary with great health insurance, a flexible vacation/holiday policy and on-the-job perks to make an offer more appealing.


2. Put your best "employer brand" foot forward on your website.
While searching for a job, candidates use a wide variety of resources, both online and offline. Online job boards and employer websites tied for the most used tools, with 75% of healthcare job seekers saying they use these resources. Coming in close behind is family and friend connections – 69% of respondents tap into this resource. Here is the rundown:
75% use online job boards
75% use company websites
69% use family/friend connections
48% use search engines
44% network
26% use newspaper classified ads
25% use social media
23% use job/career fairs
17% use university/college websites
14% visit in-person
12% use temp agencies
1% use blogs
The takeaway: Don't overlook the importance of the "employer brand" that your website conveys. Job seekers are using your website to research your organization and imagine what it's like to work there. Provide them with as much information as possible about job openings, your culture, benefits and career paths – they're looking for it!


3. Clear, concise job descriptions ease the burden on the job seeker – and you.
The journey to a new job can be daunting at times. More than one third of healthcare job seekers said finding a job for which they are qualified is the most challenging aspect of their search. Here are the other obstacles they face during their job search journey:
37% said finding a job for which I am qualified
30% said learning how to leverage social media to further my career
30% said conducting Internet searches to find open positions
28% said understanding my options for career advancement
28% said updating my resume or CV
26% said preparing for an interview
The takeaway: Help job seekers help themselves (and ultimately, help you) by providing clear and concise job descriptions. Remember not to overstate or understate the qualifications needed for the position. This increases the chance that you'll receive applicants who are truly a good "fit" for the position. Also, provide details about the path to advancement for that particular position, if possible.

As the volume of healthcare jobs continues to increase, so will the competition for quality talent. Be sure you have the knowledge to effectively engage job seekers on their journey, and ultimately, make the right hire. Download the full 2015 Healthcare Job Search Insights Report now.
The survey used for this report was fielded from November 25, 2014 through December 4, 2014. It was promoted to job seekers registered with the Health Career Center. A total of 362 healthcare professionals completed the survey.